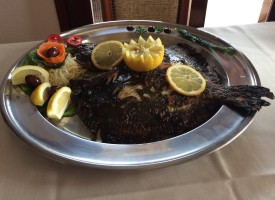 Old chefs used to say: FISH SWIMS THREE TIMES – FIRST IN THE SEA, THEN IN OIL, AND FINALLY IN WINE!
It would be a shame to be on the coast of the Adriatic sea and not to try some seafood specialty. Fresh fish and seafood, baked or grilled, baked in sea salt, prepared in foil or steamed… and a glass of superb local wine… and view of the vast sea… and Giardino! You got to experience this love! And share it with those you love.
Feel free to ask our waiter for advice or recommendation for the selection of sea specialties and wines that will fit your taste.